Objects from the River Thames create new artwork in Putney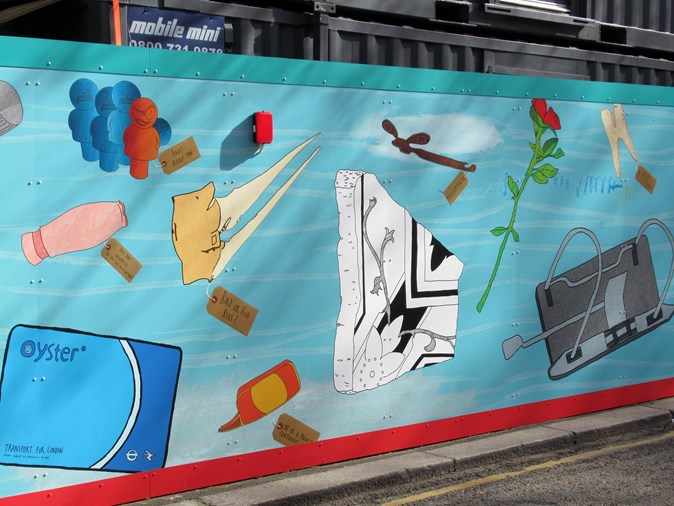 A London artist has worked with the Putney community to create a new piece of art inspired by artefacts washed up from the River Thames.
Amy Pennington was commissioned by Tideway, the company building London's new super sewer, to produce an artwork as part of the company's Art on the Tideway programme which identifies opportunities for artists to create artwork inspired by the project and the River Thames.
The artwork, on hoardings around Tideway's construction site at Putney Bridge, features hand drawn objects such as clay pipes, horseshoes, bones, 18th century pottery fragments and broken toys, accompanied by labels that offer imaginative insights into these finds based on participants' contributions.
Clare Donnelly, Lead Architect at Tideway says, "Our arts programme aims to work with artists and local communities to create unique site-specific artworks that express the transformational importance of the Thames Tideway Tunnel for London's river.
"It is fantastic to have been able to work with Amy and the Putney community to create this extraordinary piece of art."
Over two weeks in summer 2017, Amy hunted for items on the foreshore at low tide – also known as 'mud larking' - and shared her findings on Twitter. Alongside this she organised free workshops in Putney for local residents during which they mud larked, drew, sculpted, discussed and created the work for the new hoarding.
Amy Pennington said: "I've thoroughly enjoyed working with local residents on this project and meeting people who are equally fascinated by the river and what it holds.
"It's been an exciting journey to discover the area of Putney through the process of mud larking. The river washed up a multitude of objects that enabled me to see the history of this area differently, gave me insight into busy river life and the fabulous diversity that has always been a part of London."
The workshops included a session co-run with Steve Brooker, star of the History Channel show 'Mudmen' that led an inspiring afternoon on mud larking and a session hosted by Battersea Arts Centre's (BAC) Moving Museum on archiving and showcased some of the artefacts from their collections.
The highlight was a performance by the Putney Pier where Amy, along with fellow artists, washed and scrubbed all of the objects washed up by the river that she collected and presented them to passers-by, asking for imaginary stories and unexpected connections to the local area.
Other artworks to be featured on hoardings at Tideway's Falconbrook Pumping Station and King George's Park sites are due to go up later this year.
The Putney Embankment Foreshore work site is being constructed by the BAM Nuttall, Morgan Sindall and Balfour Beatty joint venture who is delivering the west section of the project.